Important notice for users to safely utilize products in long-term use
How is the condition of your gas equipment?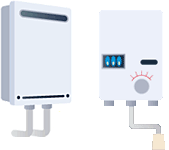 When a gas appliance is used over a long period of time, deterioration and abrasion could cause a fire or physical damage.
In addition, improper usage could result in product and physical damage.
Please use safely by implementing daily equipment check-up.
Like human beings, gas devices have limited lifespans. Please consider inspection and/or replacement after 10 years so that your device will not cause unexpected accidents.
Please also contact with the following entity for confirmation.
Japan Industrial Association of Gas and Kerosene Appliances(JGKA)
If you detect something abnormal, please contact us immediately.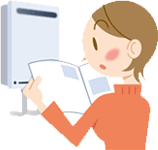 If you find something unusual, please stop using the product immediately. Please refer to the user's manual to confirm proper usage.
In addition, please go through "Safety Check Points". When an inspection or repair is needed, please contact us or your retailer.
Please arrange periodical inspection by a professional.
Gas appliances need "health check-ups".
Please arrange periodical inspection by a professional to ensure safe and comfortable usage.
Some of the latest products on offer come with improved functions and higher energy efficiency. For more information, please contact us or a retailer.
Safety Check Points