Overseas Business Expansion
With the fundamental principle of producing and selling locally, Rinnai not only provides products and services that are kind to the living environment and climate of each country but also strives to hire local personnel. Rinnai sees global expansion as contributing to local employment and improving how people eat and live in each region.
Business Location
As of March 31, 2022, the Rinnai Group consisted of the parent company, 45 subsidiaries, and 2 affiliated companies, for a total of 48 companies. In addition, there is a representative office in one place.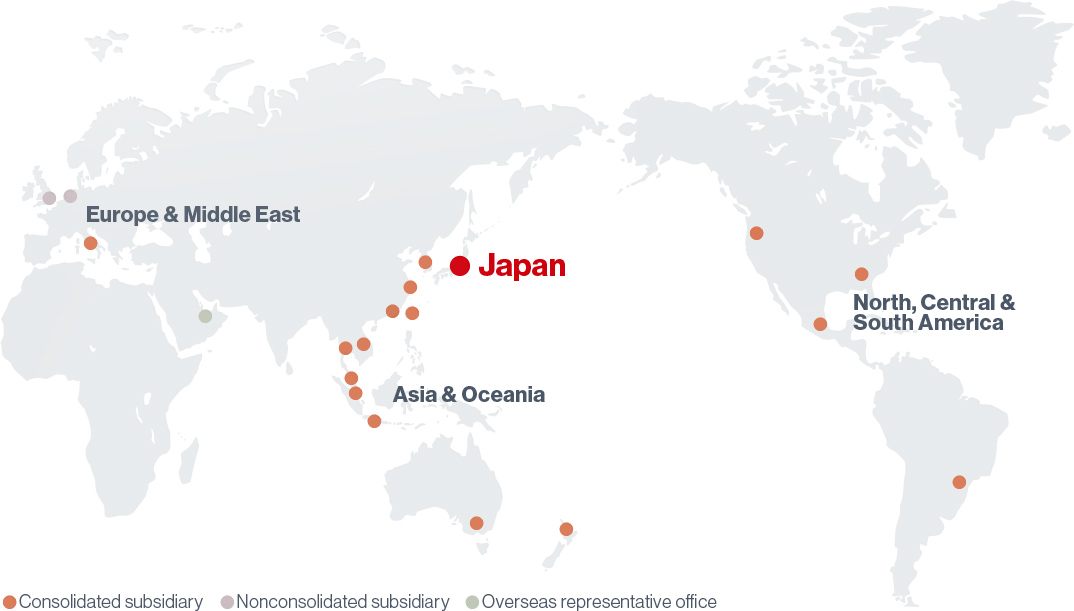 North, Central and South America

Rinnai America Corporation

Manufacturing and sales of hot-water units and heating units

Asia & Oceania

Rinnai Australia Pty Ltd.

Manufacturing and sales of hot-water units, solar hot-water systems, heating units, and commercial-use hot-water systems, etc.

Asia & Oceania

Rinnai New Zealand Ltd.

Manufacturing and sales of hot-water units and heating units

Europe

Rinnai UK Limited

Sales of hot-water units and commercial-use hot-water systems, etc.

Europe

Rinnai Italia srl

Sales of hot-water units and clothes dryers, etc.

Asia & Oceania

Rinnai Korea Ltd.

Manufacturing and sales of kitchen appliances, hot-water units, air-conditioning and heating units and commercial-use equipment, etc.

Asia & Oceania

Shanghai Rinnai Co., Ltd.

Manufacturing and sales of kitchen appliances and hot-water units

Asia & Oceania

Rinnai Taiwan Corporation

Manufacturing and sales of kitchen appliances and hot-water units, etc.

Asia & Oceania

P.T. Rinnai Indonesia

Manufacturing and sales of kitchen appliances

North, Central and South America

Rinnai Brazil Heating Technology Ltd.

Manufacturing and sales of hot-water units