Financial Results Highlights
(Fiscal 2020)
Performance
Consolidated net sales for the year amounted to ¥340,460 million, down 2.2% from the previous year. Operating income rose 11.5%, to ¥34,422 million, and ordinary income climbed 7.1%, to ¥35,679 million. Net income attributable to owners of the parent company increased 5.3%, to ¥21,561 million.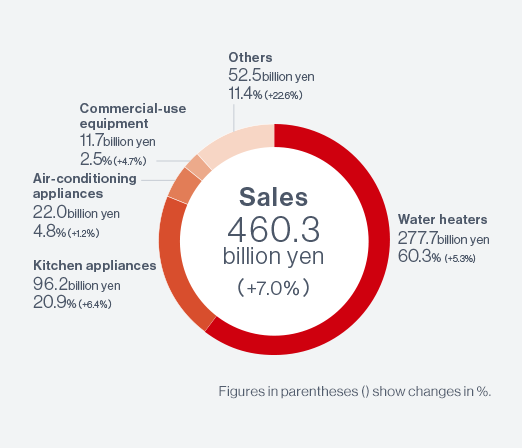 Results by Geographical Segment
Japan

In Japan, we enjoyed growth in sales of gas clothes dryers and mid-level and high-end built-in hobs (stovetops), as well as improved profits stemming from ongoing cost reduction activities. This was despite a recoil in demand for mainstay water heater with bath-filling system and some built-in hobs (stovetops) following the consumption tax hike. (There was a rush in such demand ahead of the consumption tax hike.) As a result, sales in Japan edged up 0.1% year on year, to ¥181,072 million, and operating income rose 19.0%, to ¥20,703 million.

United States

In the United States, we enjoyed a 9.0% increase in sales, to ¥33,133 million, thanks to growing sales of highly convenient tankless water heaters, as well as an increase the proportion of high-grade, high-efficiency water heaters sold. Operating income jumped 30.0%, to ¥1,939 million.

Australia

Our business in Australia benefited from healthy sales of mainstay tankless water heaters, as well as steady sales of storage-type water heaters, air conditioners, and other electric equipment. Due to foreign exchange factors, however, sales declined 5.1%, to ¥23,652 million. Operating income fell 74.0%, to ¥392 million, due to rising purchasing costs stemming from depreciation of the local currency.

China

In China, we reported a 3.9% year-on-year decrease in sales, to ¥44,226 million, due to a significant decline in demand for boilers in rural areas. However, operating income rose 28.5%, to ¥6,410 million, thanks to increased sales of mainstay water heaters—driven mainly by online sales—and the inclusion of Guangzhou Rinnai Gas and Electric Appliance Co., Ltd. in the scope of consolidation.

South Korea

In South Korea, sales fell 16.0% year on year, to ¥27,695 million, as market contraction stemming from economic slowdown, as well as an onslaught of low-priced models offered by other companies, led to a decrease in sales of mainstay gas stoves and boilers. We posted an operating loss of ¥17 million.

Indonesia

In Indonesia, we reported an 11.8% decline in sales, to ¥10,699 million, due to lack of strength in the market for mainstay tabletop stoves. This was despite recovery in sales of high-priced built-in hobs (stovetops) and range hoods. Operating income declined 5.1%, to ¥1.6 billion.