Message from the President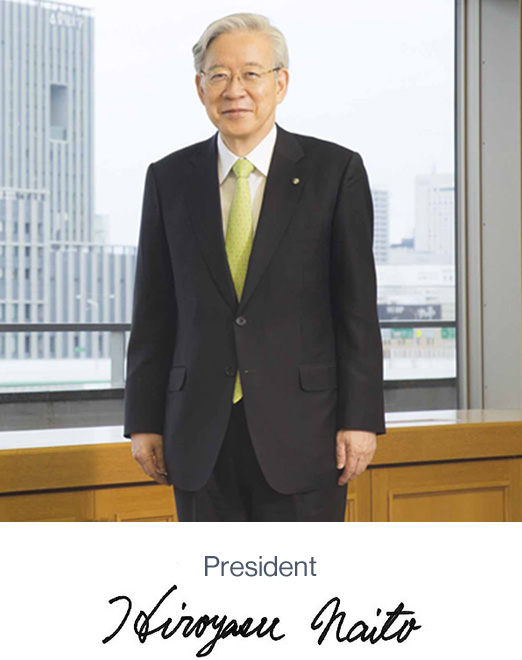 Since its establishment in 1920, Rinnai has been providing various products and services that help enrich people's lives under the keywords of "safety and peace of mind", "comfort", and "environmentally friendly". Our product lineup consists of kitchen appliances, such as stoves and rice cookers; hot water systems, such as water heaters and bathtub filler/heaters; and air-conditioning appliances, such as gas fan heaters and gas stoves. In recent years, we have added new products, including dishwasher/dryers, range hoods, and other kitchen peripherals, as well as floor heaters and bathroom heater/dryers that use hot water for heating purposes.

In addition to concern about the environment, which is a global problem, Japan is confronted with a variety of social challenges, including an aging population and medical and health problems. Rinnai actively promotes products that can help address such challenges. These include hybrid water heaters with heating systems that use a combination of electricity and gas to achieve world-top levels of energy efficiency and comfort; bathroom heater/dryers that address the problem of heat shock in bathrooms; and clothes dyers that enable clothes to be dried indoors.

The Rinnai Group provides solutions that are optimized to the living cultures, climates, and energy situations of various world nations. In addition to Japan, these include the United States, China, Australia, South Korea, Indonesia, Brazil, and Italy. Our business policy is to contribute to the lives of local communities around the world.

Currently, the Group is implementing its new medium-term business plan, entitled "G–shift 2020". The final year of the plan is fiscal 2021, ending March 31, 2021, which marks Rinnai's 100th anniversary. Under the plan, we will promote a shift in emphases toward the "3 Gs" (global, generation, and governance). Another important theme is to develop Rinnai as a global brand that is committed to enhancing value. In April 2019, we unveiled a new Rinnai logo, marking our first step as a brand that creates healthy and comfortable lifestyles.

Guided by the keywords of "heat and living" and "health and living", we will utilize our accumulated heat energy and water control technologies to provide unique products and services. In the process, we aim to offer prosperous, joy-filled lives to people around the world while also fostering a sustainable global environment.