Message from the President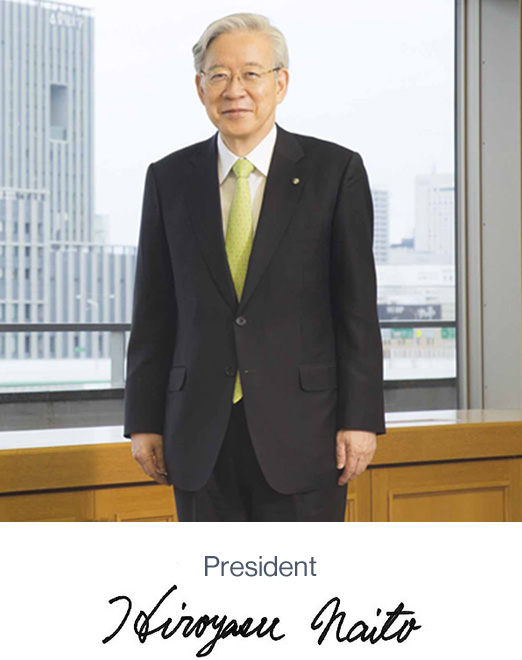 From its founding in 1920 to the present day, Rinnai has helped enrich the lives of people around the world by providing products and services that reflect the lifestyles, climatic conditions, and energy conditions of each country and region.

Over the years, we have met various changes in the environment straight on, and today, too, we are addressing major shifts in the world around us, including the accelerated pace of carbon neutral approaches to achieve zero greenhouse gas emissions, evolving lifestyles shaped by diversifying value perceptions, and the push for digital transformation.

Against this backdrop, Rinnai marked its 100th anniversary in 2020 and embarked on a new journey for the next 100 years. To realize healthy, comfortable lifestyles and deliver sustainable corporate growth, we formulated a new Medium-Term Business Plan —"New ERA 2025"— that runs from April 2021 to March 2026. This plan hinges on Advancement in addressing social challenges through Expansion of business scale and Revolution of corporate structure.

Through the new medium-term business plan, we set "Improve quality of life" and "Help resolve global environmental problems" as social challenges that we should embrace. We have developed and will continue to develop products that make people's lives better through improved convenience, increased safety and improved levels of hygiene and health, and that help reduce CO2 and PM2.5 emissions for the future decarbonized society. Furthermore, for Expansion of business scale, we will promote wider sales in the strategic markets of the United States and China, and will develop new products for the "health and lifestyles" sector.

To realize our brand promise —"Creating a healthier way of living"— we will utilize various kinds of energy resources and our own core technologies to address social challenges in our business field —"heat and lifestyles" "health and lifestyles"— and achieve a sustainable, steady, long-term growth.