Precautions When Acquiring Second-Hand Items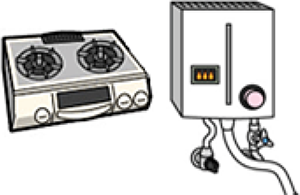 Recently, there has been an increase in accidents with second-hand goods purchased via recycle shops, Internet auctions, and the like. Please pay attention to the following points in order to prevent accidents when using second-hand items.
Always have the items inspected (professionally) before using
Please be sure to have the items checked before using in order to prevent accidents caused by the following.
* Please refrain from using second-hand gas connection devices, because deterioration of such devices may lead to gas leakage.
Devices targeted for recall
Devices that are remodeled or with parts removed
Devices near the end of their useful lives
Devices infested with dust and/or foreign matter
Devices with gas leaks, water leaks, etc.
Ask the dealer or professional installer to handle installation
If you feel something is unusual
If you feel something is unusual, please discontinue use and read the instruction manual to confirm the correct usage.
If repair or inspection is necessary, please contact your dealer or our company.