Important Notices Regarding Products
Notice for the users of "α (Alpha) Kamadodaki", a gas rice cooker with electric heating function
Rinnai has found that the possibility of partial burning of some of the gas rice cookers with electric heating function that were produced from August 2005 to September 2009. When alkaline cleanser is attached to gas supply inlet and the area remains wet for a long time, it causes the erosion of the inlet. It is rare; however, there are cases that a crack appears and a very small quantity of gas leaks, which results in the partial burning of product.
There are four cases where a product was partially burned due to this phenomenon. However, there is no case that the damage was extended beyond a product.
We are deeply sorry to cause trouble to the users of the product concerned. Until an inspection is completed, when a user detects an odor of gas, the corrosion of a gas supply inlet, or the difficulty in rotating a gas supply inlet, please immediately suspend the use, turn the gas off at the mains, and contact us.
We are very sorry to cause our customers trouble. We solicit for your understanding and cooperation.
Product models which are subject to inspection
We will inspect the models of gas type 12A/13A and LPG.
- Manufacturing period: From August 2005 to early September 2009
- Number of targeted units: 90,309
Brand
Model
Manufacturing period
Number of units
Rinnai
RR-05MRT/07MRT/10MRT
From 2005.9 to 2008.8
27,909
RR-05MRT(A)/07MRT(A)/10MRT(A)
From 2008.8 to early 2009.9
9,469
RR-S10MRT
From 2009.4 to 2009.8
142
RR-S10MKT
From 2009.4 to 2009.8
73
Osaka Gas
111-5010A/5014A/5020A
From 2005.8 to 2009.8
38,067
111-R520/R521/R522
From 2005.9 to 2008.9
8,783
111-R520A/R521A/R522A
From 2008.9 to early 2009.9
2,044
Tokyo Gas
RN-410TA-MCK/
RN-414TA-MCK/420TA-MCK
From 2008.9 to early 2009.9
2,041
Toho Gas
RAJ-5MTK/7MTK/10MTK
From 2006.9 to 2008.9
1,781
Total
90,309
How to identify if a product requires inspection or not
Inspection and parts replacement
Once Rinnai finishes preparation, we will visit the users of target products to implement free inspection, replacement and installation of modified parts.
Contact points (Japanese only)
(1) Toll-free number: 0120-478-111
(2) Start of service: July 14, 2010, 9:00
(3) Opening hours: By July 30: 9:00 to 21:00
         After July 31, 2011: 9:00 to 17:00 (Excluding Sundays and national holidays)

※ For an urgent case before July 13, please contact toll-free number, 0120-054-321
Appearance of the product subject to inspection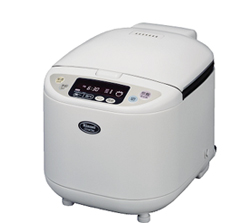 Appearance of a gas supply inlet