Financial Results Highlights
(Fiscal 2019)
Performance
Consolidated net sales for the year amounted to ¥348,022 million, up 0.3% from the previous year. Operating income declined 6.0%, to ¥30,879 million, and ordinary income slipped 2.8%, to ¥33,318 million. Net income attributable to owners of the parent company decreased 3.4%, to ¥20,480 million.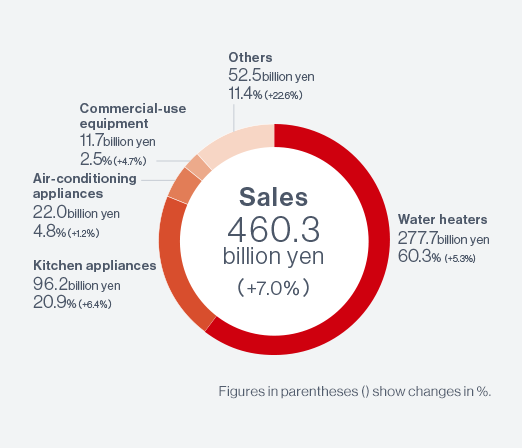 Results by Geographical Segment
Japan

In Japan, revenue declined due to weak sales of mainstay water heaters with heating systems, bathwater heaters, and built-in hobs (stovetops), as well as intensified competition with other companies for water heaters in general. Accordingly, sales in Japan were down 3.2% year on year, to ¥180,821 million, and operating income declined 4.6%, to ¥17,390 million.

United States

In the United States, where the market for housing appliances was steady, we posted healthy sales of highly convenient tankless water heaters, as well as growth in sales of new high-efficiency models. As a result, sales in the United States increased 9.6%, to ¥30,390 million. However, we incurred sales promotion expenses aimed at popularizing new products, as well as an increase in costs associated with the start of local production. Accordingly, operating income fell 32.5%, to ¥1,491 million.

Australia

Despite a decrease in sales of open heaters (fan heaters) due to a warm winter, in Australia we enjoyed growth in sales of mainstay water heaters and air conditioners, as well as an increase in replacement demand for fan-forced room heaters, spurred by the government. As a result, sales in Australia rose 6.1%, to ¥24,921 million. Due to an increase in costs associated with expansion of local production, however, operating income declined 4.5%, to ¥1,509 million.

China

In China, we reported a 3.9% increase in sales, to ¥46,009 million, thanks mainly to recovery in sales of water heaters. Due to higher sales promotion costs incurred in addressing the harsh competitive environment, however, operating income decreased 1.1%, to ¥4,989 million.

South Korea

In South Korea, construction of small-scale condominium buildings, previously a growth area, reached full circle, leading to a decline in demand for housing equipment that previously benefited from such construction. This led to year-on-year decreases in mainstay boilers, while competition in the gas cooker market also intensified. Accordingly, sales in South Korea declined 5.1%, to ¥32,953 million. Operating income fell 86.2%, to ¥112 million, due to lower sales of high-efficiency boilers and other high value-added products.

Indonesia

In Indonesia, we increased our market share for tabletop stoves due to management instability among our competitors, and we enjoyed higher year-on-year sales of built-in hobs (stovetops). As a result, sales in Indonesia rose 5.7%, to ¥12,136 million. However, operating income decreased 6.3% to ¥1,686 million, impacted by foreign exchange factors stemming from the yen's appreciation.