News Releases
News Releases
Jan 30, 2018
Notice on Opening of East Japan Logistics Center
Rinnai Corporation (headquarters: Nagoya, Aichi; president: Hiroyasu Naito) is a comprehensive manufacturer of heating and energy appliances that supports people's heating and lifestyle needs. Rinnai will open its East Japan Logistics Center in Atsugi City, Kanagawa Prefecture, with the aim of strengthening its logistics capabilities in Eastern Japan, centering on the Tokyo Metropolitan Area.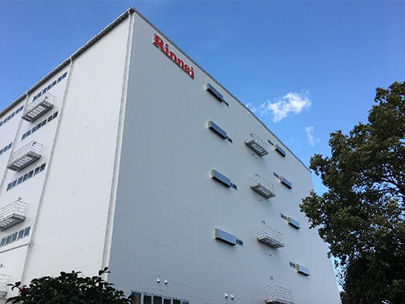 External view of East Japan Logistics Center
Since opening its Integrated Logistics Center (Komaki City, Aichi Prefecture) in 2008, Rinnai has worked to improve logistics services to customers and streamline operations.
In recent years, the logistics sector has experienced manpower shortages and tightening regulations, as well as increasing shipment volumes due to growing sales of system-based products. To realize highly satisfactory logistics services for customers in light of these factors, Rinnai decided to open its East Japan Logistics Center, using facilities owned by consolidated subsidiary Gastar Co., Ltd. in Atsugi City, Kanagawa Prefecture. The opening ceremony will be held today (January 30), and the Center will start operations in February.
The East Japan Logistics Center will enable us to realize shorter lead times and a more reliable distribution system. Going forward, we will strive to improve our services to customers throughout Japan, spearheaded by the Integrated Logistics Center in the west and the East Japan Logistics Center in the east.
Overview of the East Japan Logistics Center
Location
:
2385-10 Iiyama, Atsugi City, Kanagawa Prefecture
Site area
:
15,155m2
Total floor area
:
28,072m2 (5 levels; land and buildings owned by Gastar Co., Ltd., a consolidated subsidiary of Rinnai Corporation)
Operation start
:
February 2018
Investment amount
(for renovation)
:
¥460 million (total Rinnai Group investment);
includes around ¥340 million by Rinnai Corporation (for lifts, storage shelves, information equipment, etc.) and around ¥120 million by the consolidated subsidiary (for facility repairs, external painting, etc.)
Inquiries
Rinnai Corporation
Corporate Communication Division, Administration Headquarters
Tel: +81 (52) 361-8211
Note: The information contained herein is valid as of the date of release. Please be aware that certain details may change or be made irrelevant by circumstances that emerge at a later date.