Notice for Customers Using Floor Heating Remote Control Devices
Thank you for using Rinnai products.
This notice is related to Rinnai's floor heating remote control devices(*1), whereby some products display the following message: "Floor heating temperature level cannot be adjusted remotely" using a smartphone or other mobile device(*2). All other floor heating settings can still be adjusted remotely using mobile devices.
Because this symptom happens only when operating remotely from a smartphone or other mobile device, users can still adjust the floor heating temperature level directly using the designated remote control device.
Please note that there are no safety issues associated with this issue.
If any of the above symptoms occur, please check the floor heating remote control device model and heat source unit model and contact Rinnai (details below). We will repair the floor heating remote control device at no charge.
We sincerely apologize for the inconvenience caused to users of Dokodemo Rinnai app's remote control devices.
Customer Inquiries Desk
Phone (toll free): 0120-054321
From mobile phone (charges incurred): 0570-550258
*1. - Dokodemo Rinnai app
- Nippon Telegraph and Telephone West Corporation (NTT West):
Hikari BOX+ (EMS Version; models HB-2000 and HB-1000)
- Purpose Co., Ltd.: Purpose Connect
*2. (Example) When changing floor heating temperature level using Docodemo Rinnai app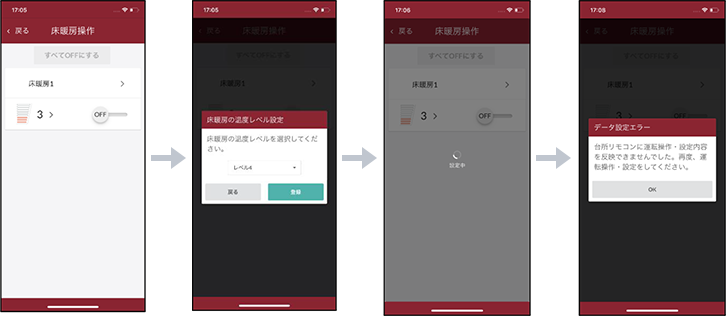 An error message appears after changing the temperature level.
If the floor heating remote control device or heat source unit do not support off-site operation (from smartphones and the like), the floor heating operation screen will not appear in the Dokodemo Rinnai app. Please note, however, that this is not a malfunction.